We don't know how our wedding would've been possible or come together without you both! Thank you so much for everything you've done from day 1 – from coordinating with all the vendors, offering décor advice, searching the entire warehouse for other items/props to use in addition to all the other small details in between to help make our vision for the wedding a reality. Even though we were not in Michigan to help with the planning, we truly appreciate all the extra effort you both put in to make our wedding an amazing and enjoyable set of events.
No words can describe how much Utsav Planners did for our wedding! We absolutely loved working with them. Hiring Utsav was by far the best decision we made throughout the whole wedding planning process. We worked closely with Rupali and Bianca to make our dreams come to reality. They were our planners, coordinators, decorations...& so much more! We could not have been more pleased with all of our events. Our sangeet had our jaws on the floor upon walking in (& a few tears), the wedding decor was nothing but elegant and beautiful, and the reception was just as regal as we had hoped. All of our events ran smoothly without any delay and our families were stress free as the events were planned a tee.
Meeta, mother of the Groom
Bianca & Rupali understood my vision & delivered 200% . They were patient & accommodating.
Rupali and her team were awesome to work with! Bianca was assigned to help coordinate my wedding and I spent a lot of time talking with her over the details. Initially, I only hired Rupali as my day of coordinator, but the more I talked with Rupali and Bianca the more I felt like they were the best people to execute my vision. In the end, going with Rupali and Bianca was the best decision I made. Everything went off without a hitch on my wedding day and Bianca and Rupali even helped put out a couple of fires.! My ceremony was at the Bharitya Temple and my reception was at another venue, I can't imagine trying to coordinate 2 venues on my own. Bianca and Rupali met with me multiple times and they always took the time to talk over all the little details to make sure my day was really special and that all the vendors were doing what they were supposed to!
Definitely choose Utsav Planners to handle all your little details and take the stress away from your big day! Thanks guys!
Rupali and her team were absolutely amazing! Bianca was my co-planner and took the time to reply to all of my endless emails, text messages and was even flexible enough to stay awake to talk on Pacific time while I was in California. Utsav had amazing contacts and fantastic ideas on how to make our wedding day unique and special and were able to provide our dream wedding within our budget. During wedding week and especially the wedding day everything went without a hitch (at least as far as we know of!). Not only were we ease but our whole family were able to enjoy the events and not worry about the logistics. There wasn't anything they weren't able to do and we loved every single moment! Thank you Utsav planners for Everything!!!
Using this planner and her team was one of the best wedding decisions my husband and I made. Rupali and her team were on point the entire weekend. We had Rupali help us with some home decor. She gave us exactly what we were looking for. She was timely to deliver all the decor and make sure we were happy with each event before she left. She was in charge of coordinating two of our events as well. Her team was available to us anytime we needed them. They made sure our events were running timely, they checked on family members to make sure everyone was doing okay, checked on my husband and I to make sure we were fed; this company is truly amazing. It was all the little things they all did that made our experience with them that much better. I highly recommend them for any of your planning need. They will go above and beyond for you and make sure you are satisfied.
I just wanted to thank you for all of your help for the past 8 months! My wedding day was amazing and it would not have been possible without you. We really appreciated all that you have done for us to make that day as stress-free as possible and it really paid off!
Priya and Kush, Bride and Groom
Thank you for making our wedding weekend so perfect! From all the decorations, handling the vendors and making sure everything ran smoothly. It truly was the wedding we dreamed of and it wouldn't have been possible with you and your team. We have received so many compliments on how smoothly the wedding events ran. Both of our families loved working with you and thank you for all your help.
Love,
Priya + Kush
As a bride you hope for nothing more than your big day or in our case big DAYS to go off smoothly. Sam and Rupali were like family to us and were so professional, organized & calm throughout all events. We wouldn't have been able to function without them and they made our days PERFECT. We are so thankful you were with us throughout the events and I would hope everyone would be able to use a team like yours for their special occasion. THANK YOU SO MUCH, we truly miss working with you! XOXO - Simrita
Utsav Planners helped make our special day even more amazing. Bianca, Rupali and the team were so helpful, whatever we needed they delivered. Lots of stress were taken off our shoulders thanks to them; they made sure everything could happen as smooth as possible for us. Leading up to the day, Bianca was so helpful with planning, talking back and forth with me to make sure my special day is what I dreamt of. Thank you Utsav Planners for all that you did!! - Bride
THANK U THANK U THANK U for an AMAZING JOB!!!
Rupali & Sam were an AMAZING team where every little detail for every event was well planned & flawlessly executed!!! Their personal care & concern were truly APPRECIATED & gave us a true peace of mind, knowing that they had everything under control at the key moments & functions!!! GREAT JOB LADIES THANK U SOOO MUCH for making each & every event FABULOUS & AMAZING!!!!
Hi Rupali and Samantha,
Finally all the craziness has settled. I just wanted to thank you both for two amazing events. Honestly both days looked beyond amazing and more than I could have even imagined! Both days looked magical! I've been looking at pictures and they look so pretty! So thank you again for making both days so special for me!!! My whole family was in awe of how perfect everything looked.
Utsav planners made my wedding more beautiful than I imagined! From day one they were very accommodating and willing to work with me at each step. Bianca was incredible and extremely responsive to my many emails and questions. She was constantly in contact throughout the process and made sure that everything they were providing was exactly what I wanted, as well as offered suggestions and feedback. She even helped me the day of the wedding by sending me photos of what the decorations and reception hall looked like as they were setting up! The entire team was flexible and helped me stay in my budget while putting extra effort in to make my vision a reality. I can't say enough about my amazing experience with Utsav - and our guests are STILL talking about the decor a month later! Thank you!!
Rupali and her team are amazing!! They really care about the clients they work with and do everything they can to make sure their day is special. For us, they searched for a cool baraat option, helped us figure out a fun post wedding brunch (though not technically part of the events they managed), and even connected us to someone to help us figure out odds and ends for our wardrobe (that also worked out really well! :) We couldn't have done it without this great team! Thank YOU! Just to give another perspective, here are some words from my sister-in-law: Thanks for doing an awesome job. Everyone had the time of their lives!!! Words like epic, once in a lifetime experience were told to us from so many people. Thank u so much for all of your hard work!!!
George and Linda, Parents of the Bride
Awesome three days....
The Utsav team made our daughter's wedding come together perfectly!
They generated creative and unique designs and ideas that haven't been seen at any other wedding and coordinated with all the different vendors. Being incredibly helpful every bit of the way. Our wedding was a cultural mix so from food, decorations, two events prior to the actual wedding day, a Hindu wedding, Christian wedding and reception all in one day. We couldn't have asked for a better team of coordinators to pull this all together so smoothly in a short period of time. Thank you for always making yourself available to address questions as needed, it was a pleasure working with you!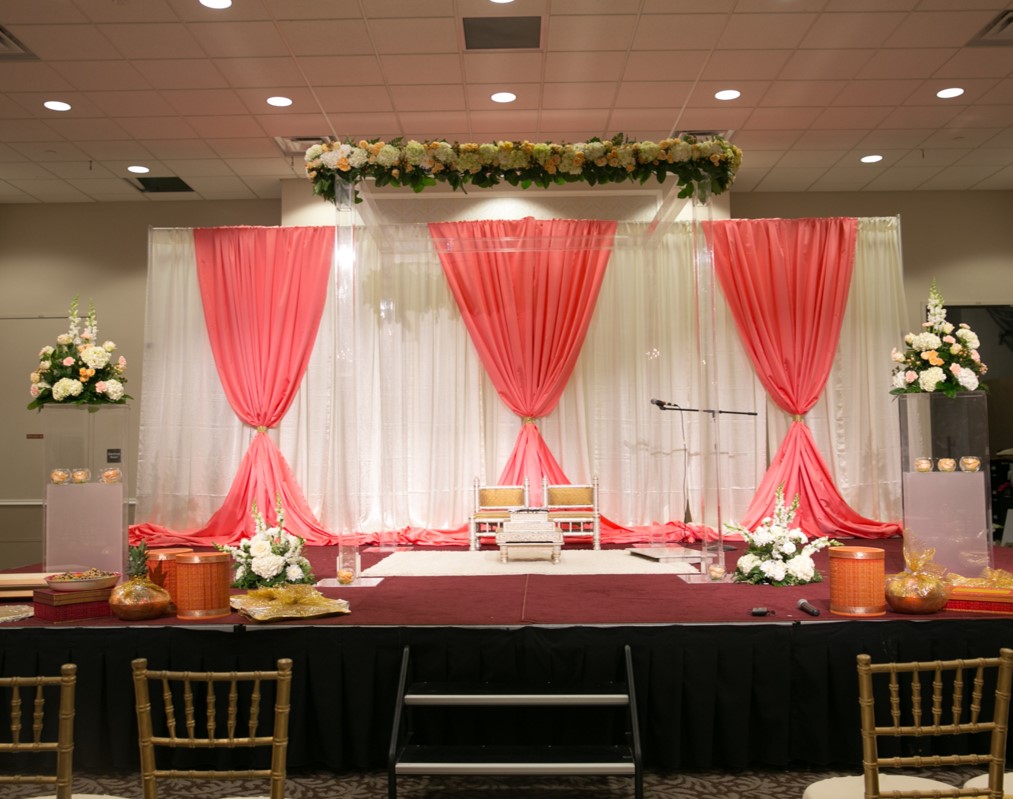 Kamya and Satyum, Bride and Groom
It was an absolute pleasure working with both Rupali and Sam for my wedding planning. I still remember the first day I met Rupali. I instantly felt completely stress-free and felt at ease about the entire planning process. It's no secret that wedding planning can be stressful. However, working with Rupali's team made everything seem so easy. They paid attention to the small details, which made everything run extremely smoothly on the days of the event. On the day of the event, they made sure that I was comfortable and taken care of every step of the way, and I really appreciated that - whether it was getting me a bottle of water, or making sure that everything was running on schedule. I cannot imagine working with a better team of people for my wedding planning, and would recommend them to anyone trying to plan a beautiful wedding!
Where do I start!? Utsav is an incredible team that genuinely cares to make your day unique, personal, beautiful, and completely and totally organized! Both myself, and both wedding-Moms are all Type
A/Planners, and thanks to Utsav, all three of us genuinely had fun and enjoyed every moment of the wedding without doing any work! That's huge. As fast as the event seems to go by, the fact that we could enjoy it and take it all in, thanks to Utsav, is priceless. These ladies surpassed my expectations for any planners. Rupali and Samantha offer a different contribution to the decor and planning process, and they are both just genuinely good people. Their high personal standard was evident in every single thing they did. At the beginning of the process, Rupali and team listened attentively to my vision for the wedding. They have a huge inventory of supplies and extensive vendor contacts that allowed for Utsav to make my vision come true. This was in stark contrast to other planners I had met with, who were trying their best match my vision to something they had done in the past (making it easy on them, while still heavy on my wallet). I did not want cookie cutter, or unoriginal -- Utsav made sure that I got exactly what I wanted and offered new and creative ideas. At our first meeting they set out a general plan and timeline, and over the several months leading up to the wedding, Samantha (the logistics lead) was on top of every detail -- making sure I had thought of non-obvious things, that they had all relevant vendor info, and making sure all plans would ultimately run smoothly and efficiently. This isn't just a business for them; they care! The perfect example of which, was Rupali coordinating family photos after the ceremony but making sure to have some food for my husband and I to nibble on in between pics. We hadn't eaten all morning, and likely wouldn't have for several more hours, so that level of thoughtfulness was just incredible. Book Utsav!
Shivani and Sohil, Bride and Groom
I loved working with Rupali and her team. They were organized and listened to my ideas for my wedding and not only made my visions come true but also gave me wonderful ideas to help plan my wedding. It was also wonderful to have the team there on my wedding day to help make sure that the day went smoothly. Thank you so much, Rupali and Sam
My wonderful, now husband, proposed to me in Mid-March of 2015. He had a Cinderella style proposal (quotes, glass slipper and all) and then challenged me with a July 4th 2015 Wedding (Yikes). I had no idea how I was going to plan a 600 person, four-day affair. I am an only child with a tiny army (my parents, who god bless their heart are supportive, organized by had no clue coupled with my husband's family which is huge!) and no massive historical experience of planning an elaborate much less my own in 12 weeks or around 100 days. Wave magic wand, in come my fairy godmothers (notice the theme here) Utsav Planners, out of the blue with 8 week advance notice and shocking availability July 4th (they are always always always booked). While Utsav central team location is out of Michigan and they are planning a wedding in Chicago (where all events were to take place), the coordination, seamless timeline, detailed planning, zero chaos, kind hearted team, within budget and were willing to scale the budget back when I was a bit worried, excellent connections (Video, Photo, Florist everyone made themselves available and achieved my dream wedding) and experience were truly notable and beyond amazing. And they are conscious of all details that matter – the temperature of the food served, the Ganesh facing the right direction, the color schemes coordinating. I gave them a few Pinterest pagers of things I liked and they made it happen. I was in Chicago during high season at work. You'd be a fool to go with anyone else.
Let me tell you a touch about me and my husband, we are both in the business world and run a large operation/ team of people. We are both type A, believe in our friends, family and are very detail oriented. While there are some things I cared about (detail, timeline, decorations) there are other things he cared about (outsourcing everything so I wasn't stressed, connecting people so everyone has an enjoyable time, having a seamless experience for our family) etc. We both got married a bit later, so we can handle the details and chaos but our sheer timeline, vendor list and size was against us. Here's what I will say anything is possible, you can get married in 12 weeks, be happy, have fun planning the whole thing, not skip on a detail and make it your ultimate dream wedding (it will exceed your expectations) IF and only IF you take Utsav Planners as your director of this stage of your life movie. You won't regret it and wouldn't be happier. To quote Cinderella, a dream is a wish your heart makes and mine was certainly laced with perfection thanks to Utsav
Utsav Planners did an amazing job planning and executing my entire wedding weekend. They are a great team to work with and have lots of experience and relationships with vendors nationally and internationally. I can't say enough great things about them and their attention to detail. They are also incredible at improvising and quickly adjusting with the unpredictable-- specifically weather disasters:)
Shilpa and Nishant, Bride and Groom
We worked with Utsav planners from start to finish for our wedding. We could not have completed our wedding without them. They are a superb team and we were extremely happy with how everything turned out!! They are best of the best!
Gaya and Matt, Bride and Groom
I cannot imagine my wedding day without you! Thank you so much for your kindness, attention to detail and making sure that Matt and I had a wonderful day. Your can-do attitude is so amazing!
Chandana and Rajiv, Bride and Groom
Thank you ladies so much for helping to make our Michigan receptions happen! You both have such a calm and pleasant demeanor- it definitely calmed us down during a week of stress! We hope to see you ladies again in the near future- nice doing business with you both!
Working with Utsav Planners was such a wonderful experience. They are SO creative, professional and extremely thoughtful. Rupali and Sam had so many wonderful ideas and really paid a lot of attention to every detail. On the day of, they were right there to anticipate our needs and made sure everything ran smoothly. Not only were they concerned that our guests were comfortable and enjoyed themselves, they really made sure we did too.
Sonali and Brent, Bride and Groom
Thank you so much for everything. There's no way our wedding would have been half as amazing without you. You guys are the best!